Good Morning!
Before I get onto today's Challenge I would just like to say that if you have been a Guest Designer for us here in the past then I have made a badge for you to display on your blogs if you would like to do so.
********************
Onto today's Challenge!
Thank you so much for the overwhelming amount of entries for our challenge last week, it was so hard to choose a winner! However we did manage to in the end and the lucky person is:
Don't forget to grab this badge to show on your blog and please e-mail me within 3 Days to claim your prize!
*******************
The Lucky people who made it to the Top 3 are:
CHALLENGE 119 - TO THE SEASIDE!
This week we want to see creations with a seaside theme!
Our prize this week is from our monthly sponsor giving us a $15 SHOPPING SPREE!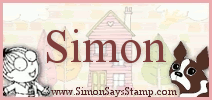 I am so pleased to announce that our Guest Designer Karita from last month has decided to join our Design Team FULL-TIME!!! Her work is stunning so I'm sure you will find it inspiring.
Just click our Team Names to be taken to our individual blogs, this week we are also welcoming this month's new guest Designer, Natascha :)
AUNTY SUE
NAT
Please remember there are a few rules you should follow before entering the Challenge:
* Your entry MUST fit the Challenge.
* Please use a DIRECT LINK to your Blog Post using Mr Linky.
* Please NO BACKLINKING to older posts before this Challenge was set.
* Lastly please
DO NOT
COMBINE YOUR ENTRY WITH ANY MORE THAN 10 OTHER CHALLENGES
.
Good Luck & Enjoy the Challenge!
Nat & The Team
xxx